The Maasai Tre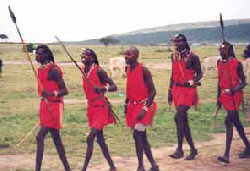 k
This program exposes you to a close interaction with the Maasai people in their natural environment. Dance with the Maasai Morans (Warriors) and participate in a community project. Since time immemorial, the Maasai have co-existed with wildlife. Through this program you will understand how this has been, and still is possible.

Day 1: Nairobi - Loita Hills
Depart from Nairobi at 8:00 am for Narok. Lunch will be at Narok. Tour the Narok Museum and then proceed to Loita Hills arriving at 3pm. You meet your Maasai hosts who welcome you to the Manyatta. There will be afternoon tea or coffee. Witness large herds of cattle arrive from the grazing fields. Listen to Maasai legends and dance. Overnight at the Manyatta


Day 2: Loita Hills
Witness cattle leave for grazing fields. Walk deep into the forests and, in the process, see plenty of wildlife. You are shown honey gathering procedures and the herbal medicine used by the local people. You return to the Manyatta for overnight.

Day 3: Massai Village
The full day is spent in the village on a community project where you will have a chance to meet the Laibon (Maasai Chief)

Day 4: Loita Falls
Walk to Loita Falls where you can swim. Walk further to the viewpoint for spectacular views of the Rift Valley and Loita Hills. On your way to the campsite you purchase a goat which will be slaughtered for dinner at the campsite.

Day 5: Shompole Mountains
After breakfast, walk through Shompole Mountains and Rift Valley towards Lake Magadi. En-route you see plenty of wildlife. Overnight at a campsite.

Day 6: Rift Valley Escarpments
Walk to the top of the Rift Valley where you put up a camp.

Day 7: Nairobi
You are picked up after breakfast, visit Lake Magadi, where soda ash is mined, then proceed to Nairobi.